This shop has been compensated by Collective Bias, Inc. and its advertiser. Product was provided by the client for review; however, all opinions are mine alone. #WorldsSmartestToothbrush #PhilipsSonicare #OprahsFavoriteThings #CollectiveBias
With Christmas just around the corner, it's time to wrap up that shopping list and check it twice. However, if you are like me, I still have that one person I cannot seem to finish up; my husband. He never mentions anything that he would just "love" to have and the things he really does want he typically just goes out and buys himself. So aside from getting him the traditional socks and underwear, I do not have a clue about what to buy for him.
He does however, love tech gadgets and gizmos. especially when they help make daily life a bit easier.
That is why I think he will love the
Philips Sonicare DiamondClean Smart 9300 Rechargeable Toothbrush. It is the perfect gift to give him and I wanted to create the perfect gift basket with essentials I know he would love perfect for Christmas morning. Plus, I know it is something he can use long after the holiday is over.
With the holiday shopping season in full bloom, the stores are crowded and even the best gifts are aleady picked over. That is why I rely on Amazon to help me get my shopping list finished up. Amazon has become my very best friend for holiday shopping. Plus, I don't want to miss out on purchasing the Philips Sonicare DiamondClean Smart 9300 Rechargeable Toothbrush for my husband. Nothing like waiting until the last minute to get the perfect gift to find it sold out!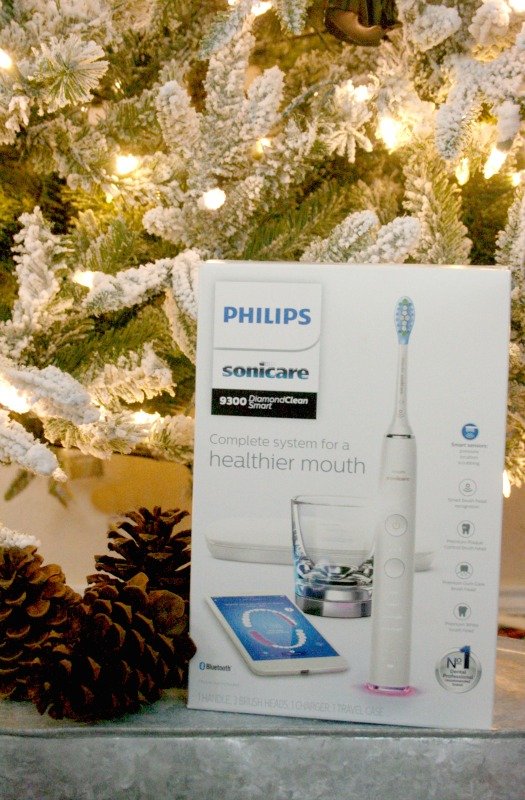 Simply click the photo above to purchase this great gift idea for your the hard to buy for guy in your life. This toothbrush is
Philips' best toothbrush yet perfect for complete oral care with s
ensors to help you perfect your brushing technique and get a complete clean. It has p
remium brush heads with
4 modes and 3 intensities that let you focus on each aspect of your oral health and the t
oothbrush automatically adjusts to the optimal mode and intensity level. Plus, c
onnect with the Sonicare app to get real-time feedback and personalized coaching. That is why, when I pair with other bathroom essentials, this makes a great gift for my husband and Amazon has all I need!
Creating the perfect gift basket is simple. You just need a few simple items and a few minutes of time to put together and you're good to go. No need to stress over that holiday wrapping either. Grab a wood or metal container that can double as storage for after and you're all set.
Pack the perfect gift basket with these bathroom essentials guys will love:
Their favorite deodorant
Shave gel or cream
Razors
Mouth wash or rinse
Aftershave lotion
Toothpaste
Tissue Paper
Container (one that doubles as storage is best)
I grabbed this wooden rectangular box. It matches our bathroom decor and holds everything perfectly. That way once all the presents have been opened, I have a place to store and hold these items so they are ready to be used and not all over the counter.
I went back and forth whether to include the tissue paper or not. I think it looks great placed in the box with the items all around it and more festive. However, it is absolutely and option that can be missed if chose too.
Place all your bathroom items into the container and arrange so everything fits. I placed the
Philips Sonicare DiamondClean Smart 9300 Rechargeable Toothbrush
front and center and everything else behind and around it because I wanted that to be the main gift and everything else was just a supporting role in the gift.
Do you follow Oprah's favorite things list on Amazon? The Sonicare DiamondClean Smart 9500 Rechargeable Toothbrush was named one of Oprah's Favorite things in 2017 and I am so excited to give my husband the chance to try a DiamondClean Smart for himself. I cannot wait for him to open this gift on Christmas morning.
The days to shop for the holiday is dwindling down. So, head to
Amazon
now and order the
Philips Sonicare DiamondClean Smart 9300 Rechargeable Toothbrush now. Your husband. or other man in your life, will love it!!!
To learn more about Philips and their products visit
Facebook
,
Pinterest
,
Twitter
,
YouTube
, and/or
Instagram
. Follow Oprah's Favorite Things on
Instagram
.